About Sieso
Sieso® (Simple Ergonomic Solutions) is a specialised producer and distributor of high-quality and innovative ergonomic products and services. Sieso is active throughout Europe. With our range of ergonomic products you can set up all of your computer workplaces ergonomically according to the latest EU Directive 90/270/EEC (requires the ergonomic adjustment of all workplaces which involve working with a computer for more than 2 hours per day).
Besides high-quality products, Sieso can also offer you advice.

Sieso's mission is to, with its products and services, increase the comfort of computer workplaces; prevent RSI/CANS complaints, reduce absenteeism caused by office/screen work and to ultimately increase productivity.

In the illustration below you will see with which product- & service- packages Sieso wishes to achieve this goal.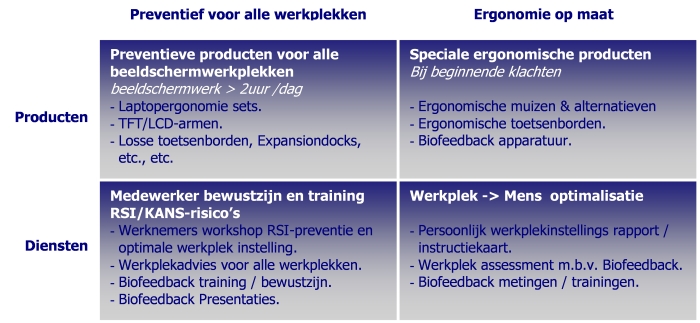 Some references

Sieso has been a reliable partner of individuals as well as small, middle-sized and large companies and organisations. Some of these are:

Microsoft Nederland
Getronics Nederland
Wolters-Noordhoff
Nutreco
Ordina
e.v.a.

Internet Safety

Sieso is verified by VeriSign.
This means that you can be sure that all your data transmitted to Sieso is transmitted securely and that you can be sure that this website belongs to Sieso, Simple Ergonomic Solutions in Diemen in the Netherlands. Click on the seal for more information.